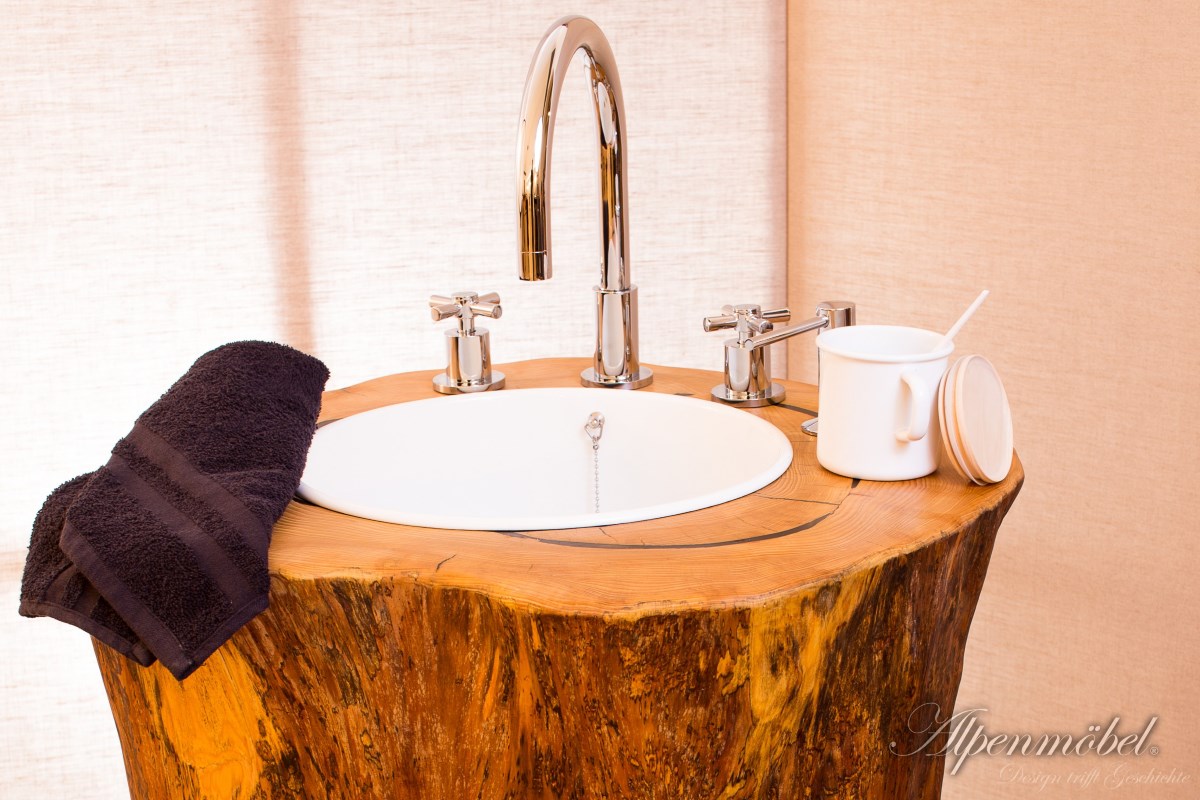 The Alpenmöbel® piece of forest
Solid wood trunk with approx. 60-80cm diameter – naturally hollow, adapted to your wishes.
Completely ready for connection with Alpenemaille® built-in basin, drain set, soap dispenser, 3-hole mixer and siphon incl. service flap on the side.
Incl. 1 pcs. Built-in basin freely selectable from the Alpenemaille® range – colours freely configurable. Optional with individual design or decor.
Freely placeable in the room – the Alpenmöbel® piece of forest can also be connected through the floor from below.
Combined with a double-sided hanging mirror, 2 pcs., free-standing, e.g. can also be arranged opposite each other.
The mixer behind the basin can be customised. Can also be combined with wall mounting taps.
Incl. 1 pcs. Siphon which is accessible through the side service flap.
With pop-up waste or Alpenemaille® Vintage waste with strainer, chain and stopper.
Incl. Cast iron towel hook, white or black. (Customizable)
Extremely hard-wearing floor protectors are standard with us.
The manufacturing process allows the products to be individually modified for special designs.
In the following an overview of the possible options, we will gladly try to bring in your ideas!
On request with built-in, high-quality bakelite socket for maximum flexibility.
Towel hooks or/and railing on both sides or/and in the front area.
* Enamelled stainless steel: By enamelling, the colour can be chosen freely or adapted to your Alpenemaille® sink.
* Wrought iron hand-forged: With pleasure in arrangement with you because there are many possibilities (round, square, hammered, turned, …).
Instead of the Alpenemaille® wash basin, you can choose any built-in basin from the specialist trade.
Choose the appropriate accessories (e.g. toothbrush cups, …) from the RIESS range and let Alpenemaille® adapt them to your wash basin design.
Free choice of colours – stained, varnished or lacquered.
With personalized Alpenmöbel® enamel sign with your signature or/and original Alpenmöbel® brand.
Original size approx. 60 to 80cm diameter, 80 to 95cm height
There are always different sorts of trees/models in different sizes available!
For further information and inquiries please contact us at office@alpenmoebel.at!
PRICE from € 2.100,- (excl. VAT, excl. delivery)